Join Us For
Training
Placements
Consultancy
Give Wings to Your Life By Choosing Merchant Navy As a Career
Welcome To Rudraksh Shipping Services
Rudraksh Shipping Services is an India's leading Maritime Education provider located in the heart of pink city Jaipur (Rajasthan) and is gradually emerging as a world leader. We aim at providing quality services to mariners, merchant navy aspirants, ship management companies and ship owners with transparency, commitment and perfection as core values. We are marine consultant responsible for selecting suitable candidates for various marine courses in compliance with D.G. Shipping (Ministry of Shipping) govt. of India, with exposure, counselling, pre-induction training/courses.
Merchant Navy As a Career Option
As a youngster, if you are dreaming to join merchant navy, here are few reasons to consider merchant navy as a career:   
•    It makes you responsible at an early age
•    Extended Vacations
•    Lucrative Pay-Packages
•    Tax Benefits
•    Opportunity to interact with different people and cultures from different countries
•    This career promises fast growth
•    There is job security with choice of working period
•    Accommodation facility on ship and no expenses for lodging.
•    Exceptional earning potential
•    Opportunity to see the world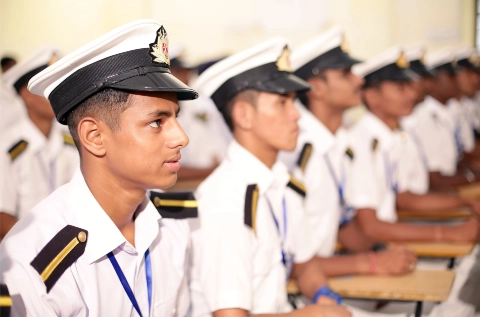 WE ARE TRUSTED MARITIME EDUCATION PROVIDER
Rudraksh is one stop solution for your complete maritime need, from Counselling to Sponsorship to Training to Recruitment. The company is pioneered operated by professionals having vast experience in marine sector.
We aim to inspire our students to dream more, learn more, do more, and become more in their journeys of life.
I started my career in Merchant Navy as Ordinary Seaman with $250 pm in 2015 and now I became 2nd Officer and taking $3500 pm. The path was not so easy to achieve but if we want to achieve something we need to work hard for it this is what I learnt in Rudraksh. I will be always thankful to RUDRAKSH for helping in the initial stage of my career and giving me opportunity to prove myself.
Before joining here, I was not even able to introduce myself in front of anyone due to lack of confidence. Being a part of Rudraksh, I feel blessed. The training program has molded my personality and clarified my vision of the future. The entire faculty and other members of this institution are very cooperative. I am and will always be thankful to Rudraksh for making me a person I am today and giving opportunity to achieve my goals.
The feelings of being home sick, the loneliness of not knowing anyone, living with someone you have never met before, are some of the struggles of being on board a ship for the first time. The day I joined the ship, I decided to quit the job. Then my family members and Rudraksh staff have motivated me to work for my career and try to get adjusted. Now I'm working as 2nd Engineer on board a ship. I really want to give this credit to Rudraksh and their staff for helping me out in taking right decision at right time.
The time I joined for training, my financial condition was not so good and even I was not able to speak English & Hindi well but the training given by Rudraksh, not only improved my command on languages but also made me eligible to work on board a ship as General Steward in 300$ salary. I worked hard and within a period of 2 years only I started earning $1500 in a month and promoted as Assistant COOK on board.
When I joined the ship I have faced a lot of problems related to food, weather, other crew and working hours, but thinking about my family financial condition and how much they have sacrificed to send me in merchant navy, I decided not to quit. I believe that this career is a perfect blend of joy and hardships. You meet different people, you interact with them, you learn about their cultures and grow as a person.